Beddingfield Family Update
March 9, 2018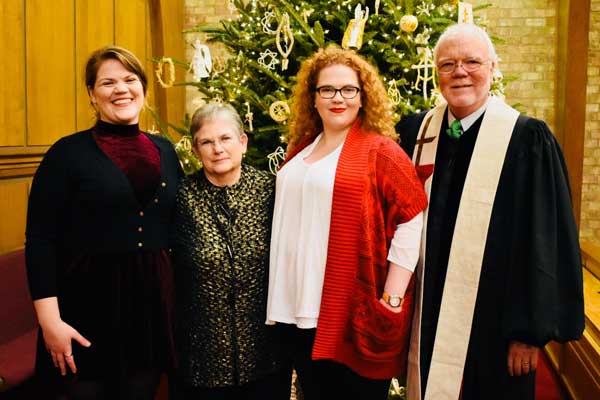 Meghan continues to improve and is doing well. The death of Sarah continues to be heavy on their hearts. The Beddingfield family wishes to express their deep gratitude to all who have ministered to them since the Christmas tragedy and covet your continued prayers.
February 5, 2018
GOOD NEWS! Shannon was released from the Burn Center over the weekend! Her strength and determination has been an inspiration to us all. She is home with Ed and Meghan in Buies Creek, and with their help will continue her road to recovery.
February 1, 2018
Good News! We are so happy to report that Shannon has made huge progress in her recovery since the last report on this site. She has been taken off the ventilator and is breathing on her own. The trach has been removed so she is now able to eat, as well as talk. She is also walking up and down the hall. Thank you for your continued prayers and support for Ed, Shannon and Meghan. God is so good!
January 12, 2018
Shannon Is improving daily. She had skin graft surgery on the backs of her hands this week and the doctors anticipate she will need no other such surgeries. The doctors have begun the long process of weaning her off the ventilator. This process will take a few weeks.
Memorial service for Sarah Beddingfield:
A memorial service will be held for Sarah Beddingfield at 2:00 p.m. on Saturday, January 13, 2018 at Memorial Baptist Church, 271 Leslie Campbell Avenue, Buies Creek, NC 27506, with Dr. Derek Hogan and Dr. Michael Cogdill officiating. The family will receive friends in the fellowship hall after the service. Guests are invited to bring notes of their particular memory of Sarah for Shannon, who remains hospitalized and cannot attend the service. Other remembrances may be posted at the funeral home website, www.oppfh.com. In lieu of flowers, donations may be made to the Cuba Mission Fund at Memorial Baptist Church, P.O. Box 485, Buies Creek, NC 27506.
Click on the following link for the full obituary: http://oppfh.com/obituary?id=313166
**Childcare will be available.**
January 8, 2018
Shannon continues to improve. She is conscious and beginning to work with physical therapists although she is unable to speak.
January 5, 2018
Shannon has been taken off of the lung machine and moved back to the burn unit. She is showing signs of regaining a level of consciousness.
January 3, 2018
Shannon continues to make improvements. The medical team plans to take her off the lung machine for an hour or so today to see how she does without it for a short time. She is slowly being weened off heavy sedation.
January 2, 2018
Dear Friends & Neighbors, At our Christmas Eve Candlelight Service, our pastor Ed Beddingfield assured us that God is with us even in times of great darkness. Later that evening that darkness visited our pastor and our congregation as Ed's sweet wife Sarah died in a fire at their home. Details of her memorial service are pending.
Their daughter Shannon was injured in the fire and was taken to the Burn Unit at UNC Hospital. She sustained smoke inhalation and burns on her hands and face. The doctors are currently focused on treating the smoke inhalation. Sunday morning, December 31st, the medical staff performed a procedure to increase the amount of oxygen her body is getting. Initial indications are that Shannon is responding to the procedure; her oxygen levels have gone up some. The next few days will continue to be critical, but the signs of improvement are hopeful. Over the next few days, Ed and Meghan will be in Chapel Hill. They request your prayers for Shannon's recovery, but do not wish to receive visitors until she improves.
Ed and daughter Meghan have relocated temporarily to a Campbell property in Buies Creek. Thanks to the gracious outpouring of love from friends and neighbors, their immediate clothing and meal needs have been met. At some point in the future, we will initiate a meal train. If you are interested in participating in the meal train, please call the church office at 910-893-4162 or check this website. We will provide a link to the meal train site when it is activated. As other needs present themselves in the days ahead, we will work to make the community aware of them.
The family continues to covet your prayers. Here are additional ways the church has set up to help the family meet their financial needs:
1. Monetary donations may be made directly to the Beddingfields. Mail to:
Memorial Baptist Church
P.O. Box 485
Buies Creek, NC 27506
2. Monetary donations may be made to the Memorial Baptist Church Emergency Relief Fund.
Contributions to the MBC ERF will be used to meet the needs of the Beddingfield family. If the donations exceed those needs, funds will be used to meet other emergency needs as determined by the Emergency Relief Fund Committee of MBC. Mail to:
Memorial Baptist Church
P.O. Box 485
Buies Creek, NC 27506
3. Monetary donations may be made to the Jaycee Burn Unit at UNC Hospital to assist with Shannon's hospital bills.
Call Financial Counselor Natecshesia McMillan at 984-974-0112.
4. Monetary donations may be made through a "Go Fund Me" Account set up by the church to help the family.
https://www.gofundme.com/beddingfield-family-relief-fund
At our Christmas Eve service, Ed told the story of the song "I Heard the Bells on Christmas Day" by Henry Wadsworth Longfellow as a reminder that we must cling to the hope that "God is not dead, nor doth he sleep."
Grace and peace to you all,
The Deacons of Memorial Baptist Church